Justin Thomas is top of the WGC Mexico Championship leaderboard after 54 holes in Mexico.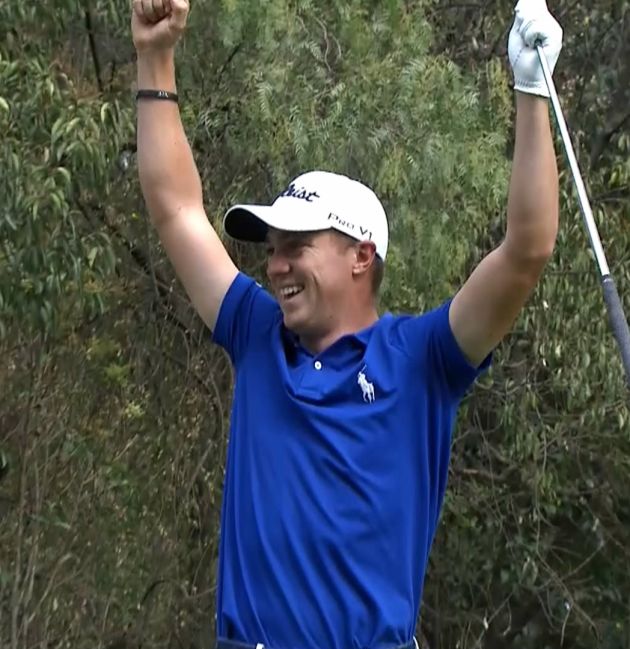 Hole in One for Justin / getty
Justin had a spectacular hole-in-one at  on the 232 yard par three 13th, to post a third round -5 under par 66, for a WGC Mexico Championship total of -12 under, and a one shot lead;
World number one Dustin Johnson is in second place, just one shot back at -11 under par, he carded -5 under 66 for his third round.
Dustin misjudged a chip shot that got stuck up a tree, and subsequently dropped out, after he had already replayed the shot, on to the green;
"I kind of hit it a little thin so it didn't get up high enough and I heard it clip the tree."
"I was just laughing,  but I'm playing really well, I just have to keep giving myself looks."
Rory McIlroy, -1 under 70 today and Phil Mickelson, -3 under 68, are tied in third place at -10 under par.
Rory explained his mediocre performance;
"A little bit weird, I felt like I couldn't get into any sort of rhythm right there." 
"I made birdie on 11, I drove it way down there on 12 and then hit the pin with my second shot and came back."
"One of those days, just couldn't really put a few good holes together."
Phil was happy to be where he is after a meltdown nearly wrecked his chances, and then he recovered it;
"I came out this year playing pretty good and I entered this week, I was playing well, I was driving the ball well and I had an opportunity today to show by being in the last group all the hard work that I've put into it and how my game has really come around."
 "Then I had a complete meltdown and lost all focus of my game for a nine‑hole stretch there."
It is so tight at the top of this leaderboard that the result is still very much in doubt, just about anyone could win, even Jordan Spieth, who is at -7 under for the tournament. Jordan shot -8 under par 63 today.