TV pundits called Bubba Watson a basket case, for playing in a celebrity basketball game Friday night, but Bubba came out and played great golf today to lead the Genesis Open after 54 holes at Riviera Country Club in Pacific Palisades, California.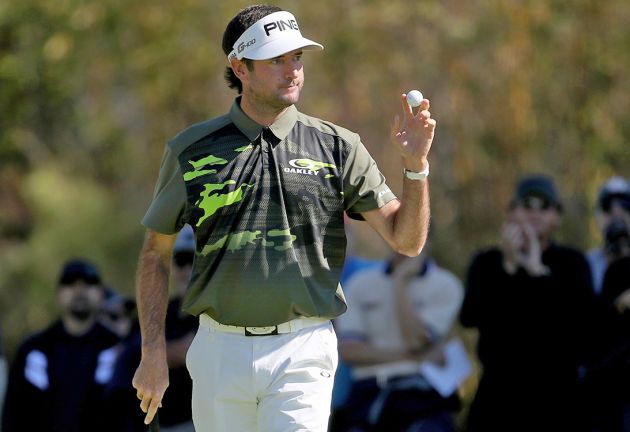 Bubba / getty
Two time winner here Bubba carded a third round -6 under par 65 to lead the Genesis Open at the 54 hole stage at -10 under par, and will have a one shot advantage at the start of play tomorrow;
"You've got to hit shots from every different angle, you've got to move it right to left and left to right, so it's just fun."
"Then the greens are the equalizer so it makes me look like I putt as good as the other guys."
"The tougher the golf course, the more focus I have. The tougher the shot, I've been able to focus better."
"When I get my mind on something, I can focus and do pretty well at the game of golf."
"Like last night when Tracy McGrady was coming at me, I was focused on not getting hurt and I didn't, so it worked out."
In second place on  his own, courtesy of a 54 ft 7 inch putt on the last green is Patrick Cantlay, signing for a third round -2 under 69, and a -9 under par total;
"I feel like if I can just engage and not worry about where I am on a particular hole or what's going on and I just engage and stay present in whatever I'm doing at that particular time, it all turns out better than what you would expect."
"Making sure you stay present and having that confidence in yourself that if you just click in and focus, it all will be good and that's kind of the head space I'm in."
Four players are then tied in third place at -8 under par, Cameron Smith, Australia, with back to back bogey free rounds, today -6 under 65. He is joined by Kevin Na, -4 under 67 and Graeme McDowell, Northern Ireland, -1 under 70 today.
Low round of the day came from World #1, and Defending Champion Dustin Johnson, -7 under 64, and at -6 under is only four shots off the lead, he will be a threat tomorrow.
 Get In The HOLE, E-Book Putting Manual on Amazon