Grayson Murray, USA, is the first round leader af the Valero Texas Open at  the AT&T Oaks Course at TPC San Antonio.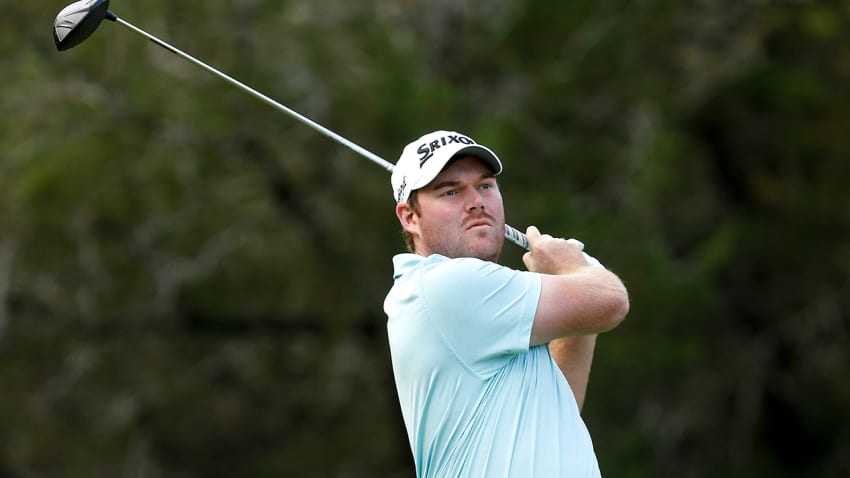 Grayson Murray / getty
Grayson carded a -5 under par 67 to lead the Valero Texas Open by one shot at the end of the first round, after missing the cut last week;
"Just the fact I did give myself enough opportunities today for birdie, it took a lot of pressure off."
"I was hitting each club ten yards shorter than I normally do, and you can't play like that because your caddie is trying to give you a number and a club, and you keep hitting these bad shots or keep coming up short."
"I got back to the basics with the setup and the takeaway, got my club in a better position at the top, which kind of frees my downswing."
"Then I can start going at it."
Five players share second spot at -4 under after opening rounds of 68, Chesson Hadley, Keegan Bradley, Ryan Moore, Billy Horschel and Matt Atkins, all USA.
Billy and Ryan were bogey free today, where only 34 players in the 156 man field managed to break par.
Billy was happy with his round;
"Struck the ball really well, something that we've been working hard on."
"Could have been better, I didn't really make anything out there today. But I'm happy with it."
"I'm a big momentum player. I've got to get the train moving forward."
"I've always been a guy who gets on a little roll, get that train moving and jump in that winner's circle."