Zach Johnson and Ryan Moore are tied at the top of the Valero Texas Open leaderboard after 36 holes at TPC San Antonio.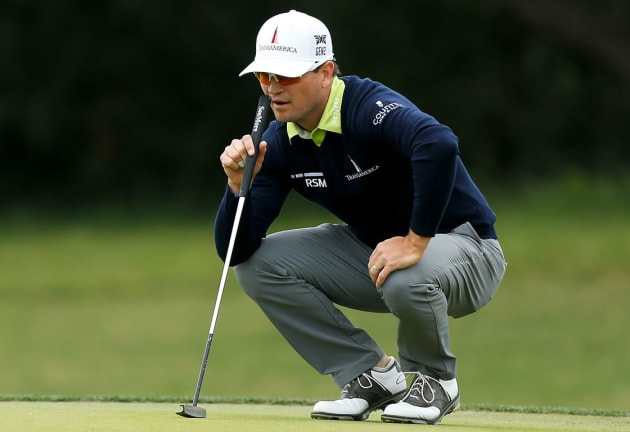 Zach Johnson / getty
Zach, -7 under 65 today, and Ryan -5 under 67 share  the Valero Texas Open lead at -9 under par after 36 holes.
Zach was asked if there are any similarities between La Cantera, where the tournament used to be played, and TPC San Antonio;
"The only similarity is that they're probably within 30 miles,  well, that's not a similarity, that's just a fact."
"It's certainly not the test this is. This is a much more difficult test."
"The confidence is there, and when you can step on the tee with this kind of wind, you trust your clubs and trust your ball, that's pretty important."
Ryan has had problems with the putter;
"My distance control has been great and really my ball-striking's been really nice the last few weeks."
 "The putter just kind of hasn't been cooperating."
Two players are then tied in second place, one shot back at -8 under par, Andrew Landry, -5 under 67 today, and Grayson Murray who carded a second round -3 under 69.
Grayson the first round leader made a good birdie on the par five 18th; 
"Those were the two best shots I've hit into a par five in a long time."
"To be pin-high just on the front fringe on that hole, I didn't even think I could do it."
"I'm an underdog in this situation, which I love to be."
Andrew is knocking on the door of winning;
"You just continue to learn whenever you get put in these situations."
"I just know that I'm knocking. Something's close."
"Whether it be this week or any other week or a year or two from now, I'm knocking."
Two notables who missed the +1 over par cut line were internationals Sergio Garcia, Spain and Adam Scott, Australia.