Kevin Kisner & Scott Brown are in front of the chasing pack after 54 holes of the Zurich Classic at TPC Louisiana.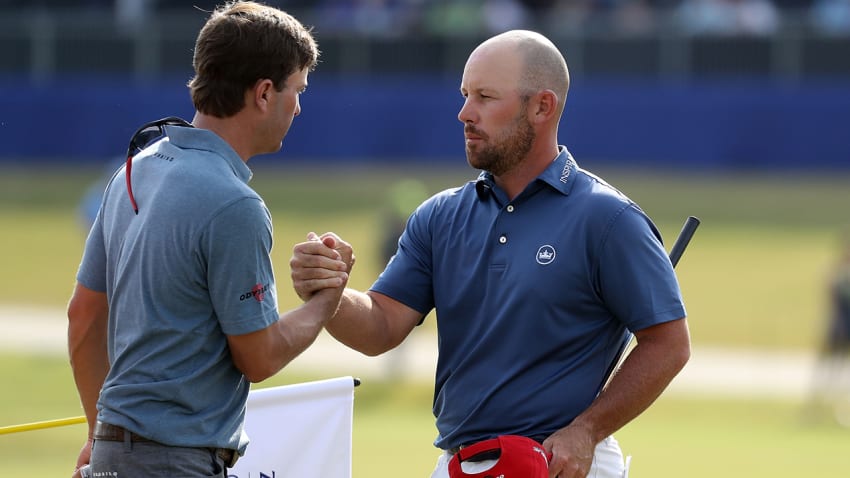 Kevin and Scott / getty
Kevin and Scott shot a -8 under par 64 in the four-ball format to lead the Zurich Classic by one shot at the end of round three with a -19 under par total.
Kevin and Scott were beaten here last year in a play-off, but  Kevin thinks their experience will hold them in good stead;
"We've been doing this for 20 years, we know each other pretty well. I think that's why we gel so well together."
"He knows I'm not going to be upset if he's playing bad, or if I hit a bad shot he's not going to be upset at me. "
"What did they tell us, your bad shots are the other person's problem, so have fun."
Sharing second place at -18 under are Tony Finau & Daniel Summerhays, -9 under 63 today, and Michel Kim & Andrew Putnam with their -6 under 66 third round score.
Daniel explained the golfing relationship with Tony;
"Last year we were kind of all up in each other's space. Hey, come read this putt. Let's read together. What do you think here."
"This year we've just completely backed off everything. I called Tony in to read one putt yesterday and that's basically it."
"It's the underlying trust, right? He's trying his darnedest to get me in a good spot."
"I think that's the great thing about having a close friend. We've played so much golf together. There isn't any of that judgment."
"I'm really looking forward to tomorrow. I think it's going to be difficult, but that's what we do."
Tomorrow is another round of foursomes, alternate shot, so expect more low scores, it will be fun to watch.