There is a 4 way tie at the top of the U.S. Open leaderboard with, World #1 Dustin Johnson, Scott Piercy and Russell Henley, all from the USA, sharing the honor with  Ian Poulter from England, at a windy Shinnecock Hills Golf Club in New York.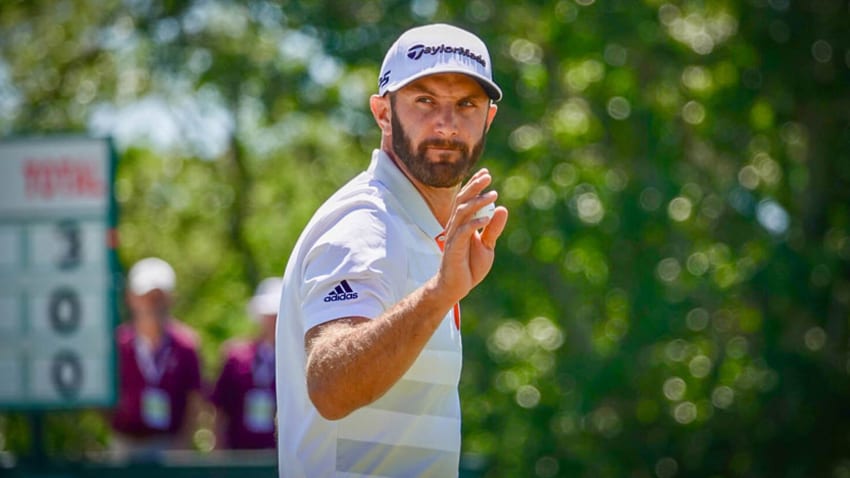 World #1 Dustin Johnson / getty
DJ, Scott, Russell and Ian all posted first rounds of -1 under par 69 to top the U.S. Open leaderboard by one shot.
DJ. was happy with his round, and coming off a win last week is full of confidence, even if no one has ever won a PGA Tour event and gone on the win the U.S. Open the next week;
"I'm very pleased with the round. Anything under par on this golf course is very good, especially in the conditions we have today."
"I felt like from start to finish, it was very difficult."
"You had to focus on every single shot you hit, putts, everything. You know, it was just difficult all day."
"Obviously, coming off a win, you've got a lot of confidence. I feel like I've been playing really solid all year, just haven't really been getting a lot out of my rounds."
Jason Dufner has fifth place to himself at even par, after his opening effort of 70.
Poults likened the US Open with a trip to the dentist;
"Through most of the U.S. Opens, I haven't enjoyed very many, to be honest."
"They're difficult. They're hot. They're stressful. Feels like you're pulling teeth every single hole you play."
"This week, I've changed my mindset. I'm here to enjoy my golf this week, to play freely, to go out and just go play golf. If I hit it in the rough, I hit it in the rough."
"I'm going to try and make par the hard way and just don't get too bogged down with it."
You can not win a Major in the first round, but you can certainly lose it; Rory McIlroy, +10 over par today, Jason Day +9, Jordan Spieth, and Tiger Woods +8, Phil Mickelson and Bubba Watson +7, have a battle on their hands, will be interesting to see if any of these guys can get up and make the cut.
 Get In The HOLE, E-Book Putting Manual on Amazon