Defending U.S. Open Champion Brooks Koepka is Champion again at Shinnecock Hills Golf Club in New York.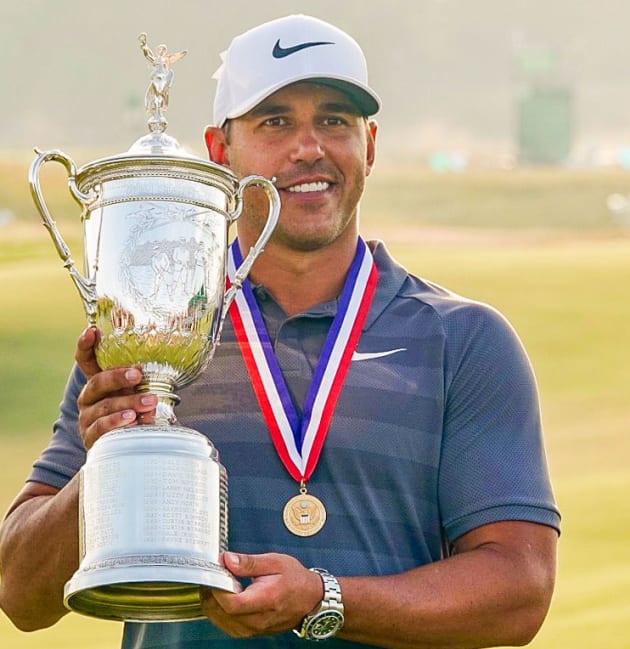 Double Champion Brooks Koepka /  getty
Brooks carded  final round -2 under par 68 to win back to back U.S. Open titles with a +1 over par final total for the 72 holes;
"Man, it feels good to hold this thing again."
"I enjoy the test, I enjoy being pushed to the limit. Sometimes you feel like you are about to break mentally, but that's what I enjoy."
"I enjoy hard golf courses. I enjoy playing about the toughest in golf you are ever going to play."
Tommy Fleetwood, England, was second, with a fabulous last round -7 under par 63, that could have been better, he finished at +2 over par for the competition.Tommy had a great day with the putter and had a chance to record 62, which would have been  the lowest last round at a U.S. Open;
"I actually hit the putt I wanted to, but it was so steep, that green, it was a bit slower than what I thought. I really wanted that 62."
"I honestly never really thought I was out of it. I just needed a good start, as you never know what's going to happen.
"Obviously, we knew they would have made it a bit softer today and, looking at the pins, you knew they were going to be more accessible. I knew I was kind of in it teeing off, but you still have to get off to that good start so four under through seven, it was game on.
"I made great putts coming down that back nine, so it's easy to just look at 16, 18, where I had chances, because that is essentially what it comes down to. But I made so many good putts today. and, to sit here with a chance, I'll take it."
Third place went to World #1 Dustin Johnson, who never really got going today, signing for a last round of even par 70 and +3 over par total.