Robert Garrigus, USA, leads the suspended first round of the RBC Canadian Open at Glen Abbey Golf Club in Ontario Canada.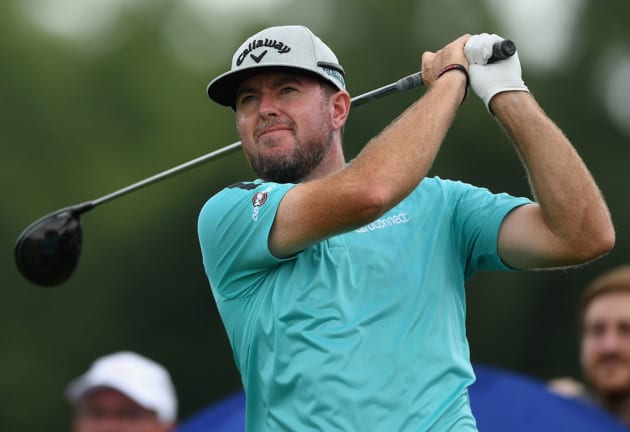 Robert Garrigus / getty
Robert fired a completed first round -9 under par 63 to lead the RBC Canadian Open by one shot as play got suspended due to inclement weather.
Luck was on Robert's side today, as he hit a shot on the 13th straight into the middle of a lake, it hit a rock bounced over the water, he made birdie;
"Hit it right in the middle of the water, and it hit a rock and bounced over the thing and I made birdie."
 "It was a lot of fun today."
"I love this place. I've always played well in Canada, there's a lot of good vibes here."
 "The fans are amazing here. They really, really love their Canadian golfers, and they love golf in general."
"They've always cheered for me, and I kind of feel the vibes. It's pretty cool."
Adan Schenk, USA, is  in second spot at -8 under after his opening round of 64, using a new mark on his ball to aid with his putting, he would also like to climb up the                FedExCup rankings;
"I drew a new mark on my golf ball today, and for putting."
"It lined up well and seemed to make about everything."
"It's really important, we are running out of weeks."
"I think this is the first time y'all have interviewed me, so need to start playing a little better, but today is a nice start in that direction."
Another American completes the top three, Chris Stroud has third place at -7 under par, with an opening round 65.
David Hearn is the top Canadian player, tied in 22nd spot at -4 under par;
"I would like to have been a couple more under on today's round, but overall very happy with the way I hit it today."
First round play will now continue early Friday morning, with 55 players still left to complete their rounds.
 Get In The HOLE, E-Book Putting Manual on Amazon