World #1 and  FedExCup leader Dustin Johnson, USA, is in the four-way tie at the top of the RBC Canadian Open with Kevin Tway, USA, and Ben An,and Whee Kim from South Korea.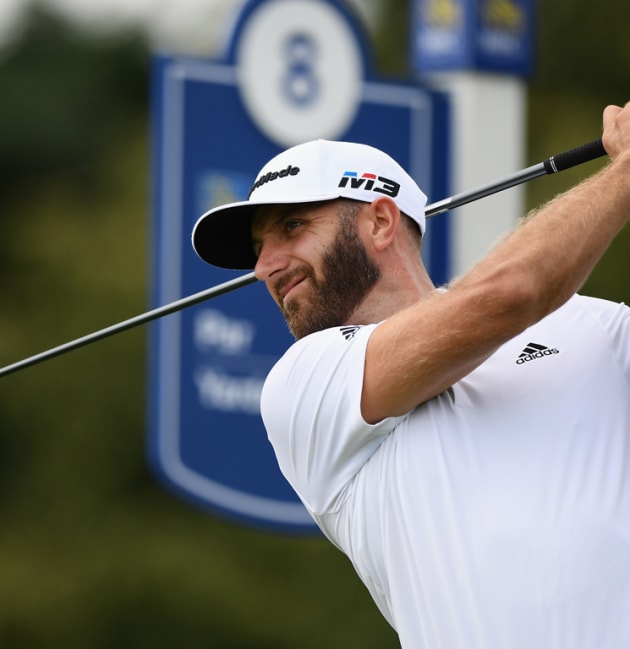 World #1 Dustin Johnson / getty
DJ, -7 under 65 today, Kevin, -6 under 66, Ben, bogey free -6 under 66 and Whee Kim with -5 under par 67 are all tied at the top pf the RBC Canadian Open with -17 under par totals after 54 holes at Glen Abbey Golf Course in Canada.
Dustin had a great day with the putter, but not so good in the ball striking department, which turned into two bogey's on the moving day round;
"I putted A+ but I didn't strike it quite as well as I'd like to." 
"I putted really well today. I felt like I was definitely rolling the putter nicely."
"I got off to a good start, I hit some good shots. I was just not as sharp as I was yesterday, but my score was better today."
"I would like to get to 25 under at least. I need to play well, though, it's out there."
"If I roll the putter like I did today and hit like I did yesterday I'll get there."
Ben made sure of birdie on the par five last hole, laying up;
"The worst I would make from a lay-up was a par, so I just wanted to give myself a birdie putt."
Kevin was targeting the par fives;
"I had a good finish, a little struggling starting out, but I know that the last few holes are a little bit easier, so I tried to stay patient and take advantage of the par fives."
The nearest chasers are four shots adrift at -13 under par, Hudson Swafford, USA, -5 under 67, and Rory Sabbatini, South Africa with a third round -4 under 68 to be T 5 for the tournament.
Mackenzie Hughes of Canada has a fan for life after giving his Toronto Maple Leafs jersey to a small lad beside the 17th green.
What a nice way to finish your day, Mackenzie is T 13 at -11 under.
 Get In The HOLE, E-Book Putting Manual on Amazon