Ian Poulter of England leads the WGC-Bridgestone Invitational at Firestone Country Club.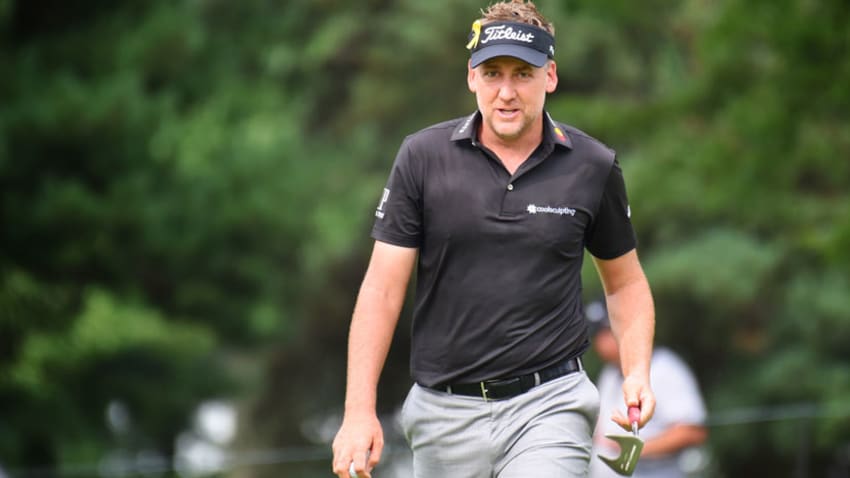 Poults / getty
Poults fired a bogey free first round -8 under par 62 at Firestone, to lead the WGC-Bridgestone Invitational by one stroke.
What really fired him up was his poor record at this event;
"It fires me up. I mean, it's frustrating to look at."
"I actually thought I had a better finish than that, so it really annoyed me.
"For some reason I thought I finished second, but I didn't know how mistaken I was when I looked at all the numbers."
"I wrote them all down, they were that bad."
"I was like seriously, how can you play a good golf course this many times and not really have a result. Not to even finish in the top ten is pretty poor."
Kyle Stanley and Rickie Fowler, both from the USA, share second place, one shot back at -7 under after rounds of 63.
Rickie was happy to have a good start to the tournament;
"It's fun to see this place like this where you're getting to see a little bit more of the offensive sides versus when it gets firm, it can get scary at times."
"I did a good job of not getting ahead of myself and moving through things too quickly and stayed patient."
"You've got to take care of business just to get in this golf tournament. I'm off to a good start, that's all you can do Thursday."
Kyle feels at home on this course;
 "I play well here in Ohio. A lot of these golf courses, same grass as what I play back home and kind of the same look."
"The courses are fairly similar to what I grew up on and I still live in Washington now, so this is very similar condition‑wise to what I see when I'm home on my off weeks.
All Tour players wore Yellow Ribbons today  in support of  Jarrod Lyle, from Australia,  a former TOUR player who made the agonizing decision this week to cease his cancer treatments and go in to palliative care in Australia. 
 Get In The HOLE, E-Book Putting Manual on Amazon