Brandt Snedeker, USA, still leads the Wyndham Championship after 36 holes at  Sedgefield Country Club.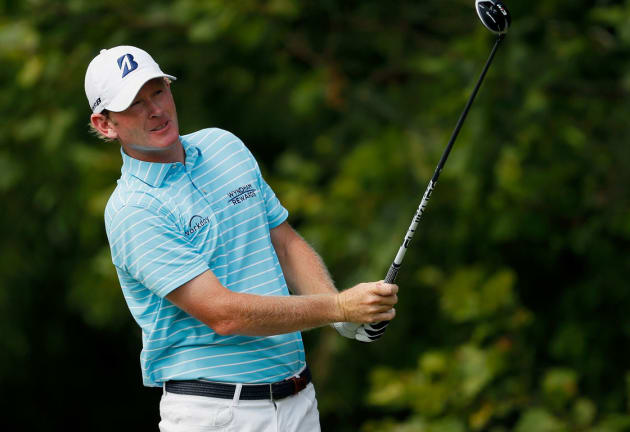 Sneds / getty
Sneds had his lead cut to two shots after carding a second round -3 under 67, but he still tops the Wyndham Championship leaderboard with a -14 under par total.
Brandt said the 59 was on his mind, people kept reminding him of it;
"You hear people telling you every two seconds, `Mr. 59,' or saying how cool it was to watch it."
"So, yes, totally on your mind."
"You can't ignore it, you can't try to forget about it."
"Hardest thing is trying to get back into a rhythm."
"Now I'm better equipped for the next time I shoot 59 and play the next day."
Second place belongs to D.A. Points, shooting -6 under 64 in his second round, giving him a -12 under par tournament total.
"Basically, I know this is possibly my last event of the year, so I haven't been grinding really hard."
"It seems to be paying off."
C.T. Pan from Taipei, is third, also carding a second round -6 under 64 today, to post a total of -11 under par;
"I love this course, trajectory tends to be lower than compared to other guys, so I think I have an advantage here."
Fighting to keep their FedExCup hopes alive were Bill Haas, USA, who at No. 150  on the list is in danger of missing the FedExCup Playoffs for the first time, he made the cut on the number at -3 under par with his second round -3 under. Sergio Garcia, Spain, at No. 131, on the list is also is trying to make it for the 12th straight year, Sergio rallied to card a second round -5 under 65 to post a tournament total of -9 under.
 Get In The HOLE, E-Book Putting Manual on Amazon