Webb Simpson leads the Dell Technologies Championship after two rounds at  TPC Boston.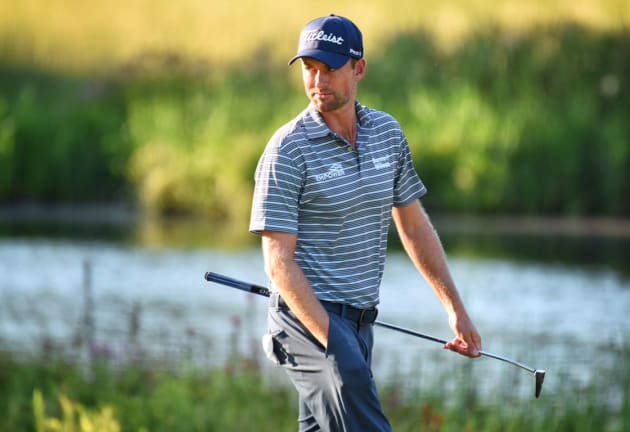 Webb / getty
Webb shot a second round -8 under par 63 to top the 36 hole Dell Technologies Championship leaderboard at -11 under par, with a brilliant Eagle on the final hole sinking a  71-foot, four-inch putt;
"I was excited and you just kind of laugh at those, because you're not trying to make them, you're just trying to get them close."
"Those moments are always fun on the last hole."
"Honestly, it brings back the 2011 memories, making a couple of putts when I won. Just a great atmosphere out there."
Yesterday's first round leader Justin Rose, -4 under 67 today, and Tyrrell Hatton, -8 under 63 share second place one shot back at -10 under, both guys from England.
Tyrrell was having putting problems, so he went to a local store and bought a new putter;
"Well that's the best $172 I've ever spent, was so nice to hole some putts again today, new putter worked it's magic!"
"The putter has been good. I'm more comfortable with it. Obviously, I've got a bit of confidence with how I putted last Sunday. So it's nice to see the ball go in."
"I think a lot of people don't understand that TOUR trucks leave on Wednesdays. So I didn't have a spare with me. So it was just a case of I'd been kind of struggling with my putting for a few months, which is normally a strength of mine."
"I think if you look at the stats in most weeks, I was at the bottom of putting, which is not normal for me. So I needed a change and luckily it's worked."
For a while during the day there were three Englishmen at the top of the leaderboard, it made Justin smile;
"I had a little smile about that."
Tommy Fleetwood, England, has fourth place to himself at -8 under par after his -6 under 65 second round score, holing a few good putts;
"A few more putts went in."
"I definitely swung it better yesterday than I did today, overall, but today I got the score, and I holed a few putts and that's it."