Bryson DeChambeau wins again, this week picking up the Dell Technologies Championship trophy at TPC Boston.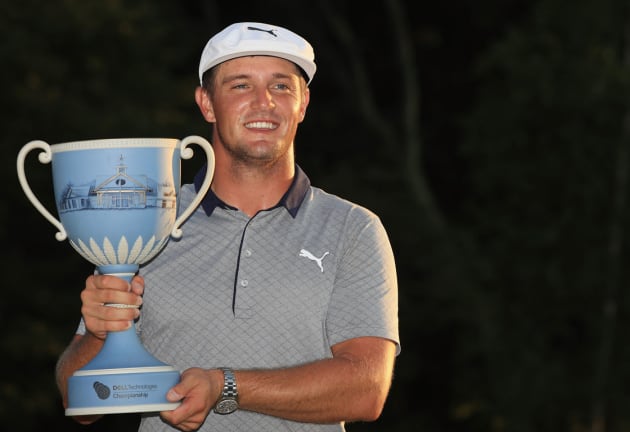 Bryson / getty
Bryson, known as The Mad Scientist, continued his winning ways with a final round -4 under 67 to claim the Dell Technologies Championship trophy with a -16 under par total, a two stroke winning margin;
"I'm playing golf at the highest level and winning at the highest level." 
"When I got to a four-shot lead, after 11, I think, I said, all right, this is now kind of like last week."
 "Let's keep the focus, keep executing the right shots and hit it into the middle of the greens and making great strokes on putts."
"Hopefully, they go in, if they don't, just tap it in."
Justin Rose from England finished in second place on his own at -14 under par, with a last round -3 under 68;
"You're trying to win these amazingly important golf tournaments, but in the back of your mind you're trying to secure yourself into the final one at East Lake in Atlanta." 
"This was an interesting week for me. It was nice to kind of sign off here in Boston."
"It's a tournament that we are going to miss a little bit."
"It was kind of where my PGA Tour career started, and it was nice to finish with a strong showing."
In third spot was Cameron Smith of Australia, he could have tied second but for a huge mistake on the last hole, putting his attempted second shot on the green on the par five into the hazard, making bogey for a last round -2 under 69 and total of -13 under par.
A disgruntled Tiger Woods, even par 71 today, left the golf course after refusing to talk to the media. He finished the tournament T24 at -7 under par, nine shots off the pace, with the putter being his worst enemy.