Three players are tied at the top of the Mayakoba Golf Classic leaderboard at the end of round one at El Camaleon Golf Club in Mexico. Matt Kuchar, Kramer Hickok and Dominic Bozzelli, all from the USA share the honor.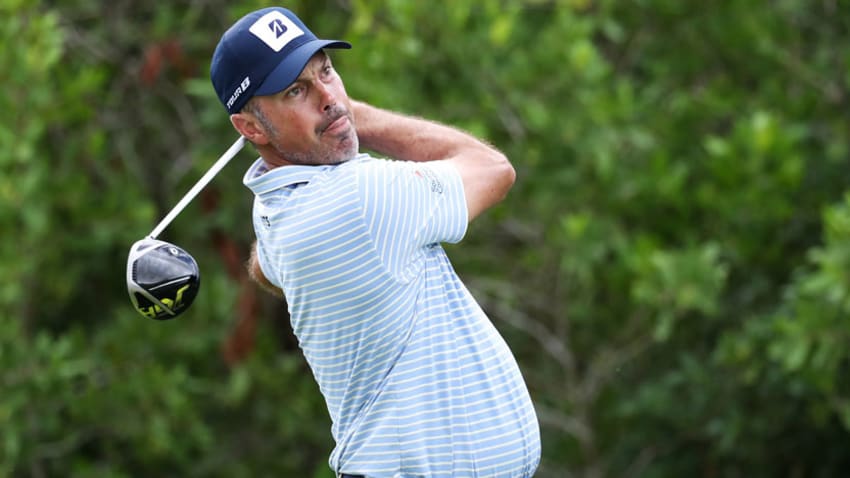 Matt / getty
Matt, Kramer and Dominic all carded first rounds of -7 under par 64 to lead the Mayakoba Golf Classic by one shot in Mexico.
Matt played well today in what the media are calling his bounce back year;
"If you're not driving it well, this course is extremely hard."
 "If you're driving it well, you can make some birdies, which I was able to do today."
Matt's wife Sybi stood in as caddie for Zach Johnson when his usual bag man, Damon Green, suffered dehydration due to the heat;
"I knew Sybi was in the crowd, I knew she'd caddied for me before, she's friendly with Zach Johnson."
"I figured she'd be a good one to handle Zach and Zach would definitely go easy on her."
" I knew she could handle it."
Matt & Sybi Kuchar / getty
Kramer,  a former University of Texas golfer was known as Jordan Spieth's roommate;
"We play a lot of golf together, I'm reaching out to him when I'm home and trying to pick his brain a little bit here and there, but really just watching him play, learning from him, what he does at practice."
"And we have the same coach, so a lot of the things he's doing, I'm doing."
"I had a little momentum coming in."
For the record there are 15 players sharing second place at -6 under par, it is going to be an interesting tournament.