Henrik Stenson, Sweden, and Jon Rahm of Spain share the Hero World Challenge lead after 36 holes at  Albany Golf Club in the Bahamas.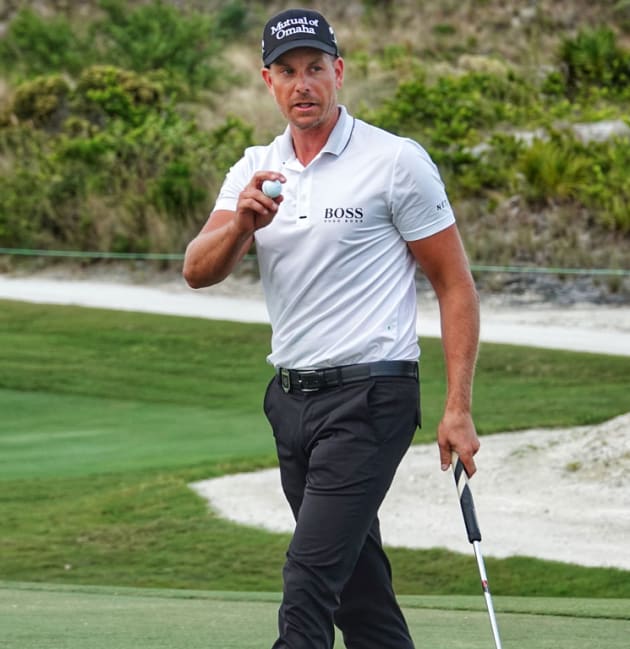 Henrik / getty
Jon signed for a second round -9 under par 63, and Henrik -6 under 66, to both top the Hero World Challenge leaderboard at -10 under par. 
Jon said about his wonderful round;
"I hit it so solid off the tee, I was always in the fairway with a short club in."
"I think the best way to describe it, having five par fives and two relatively short par fours, out of those seven holes I got six birdies."
"So I capitalized on the easier holes today. Didn't seem like much could go wrong."
"On days like today, I just didn't really think about my swing, it was like a well-oiled machine."
Henrik has not played too much golf since the Ryder Cup, due to injury;
"I'll try and make it to the finish line, I haven't played a lot of golf, though."
"Since the Ryder Cup, I had an injury problem, I was out for five weeks."
"So I guess I should be a little bit fresher than some of my colleagues who call me from Hong Kong or somewhere else at this point."
"I'm feeling all right. We just keep on going, try to make as many birdies as we can."
Dustin Johnson, -5 under 6 today, Patrick Cantlay, -2 under 70 are tied in second position with -9 under total.
Tiger played ok until the last hole, where he tangled with a bush off the tee, and had to hack it out from underneath. There was a suspicion that he double hit the ball, but the officials cleared him of any wrong doing, signing for a -3 under 69, with a six on the final hole for a -2 under total;
"I didn't really figure out my putter well today, missed quite a few short ones."
"I hit the ball close; close enough to really have a shot of a low number today; just didn't do it."