Gary Woodland has a three shot lead at the Tournament of Champions event after 36 holes at the Plantation Course in a very windy Hawaii.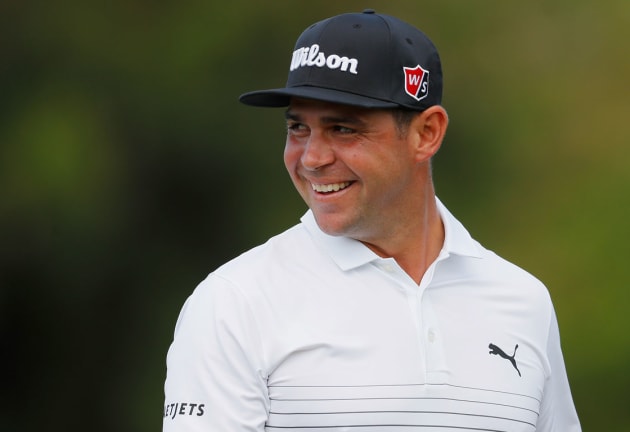 Gary /getty
Gary ignored the strong winds to card back to back rounds of -6 under par 67 for a three shot shot lead at the top of the Tournament of Champions leaderboard at -12 under par. Really tough putting in the wind;
"The big deal was just staying patient on the greens."
"It's very tough putting with the crosswinds and I didn't see anything go in early, but nice to see the chip go in on eleven, and kind of got me going, propelled me for the rest of the round."
"We have done a lot of mechanical stuff, but the confidence is what really propelled me to have a good round today."
"Because in the past it would have been frustrating, just all day I would have been complaining about it."
Sharing second place at -9 under par are Bryson DeChambeau, -5 under 68 today, first round leader Kevin Tway, -2 under 71, and Rory McIlroy with -5 under 68.
Bryson's only mistake today was to forget to bring along an umbrella, rain can show up at any time here;
"Guess you could say there was insufficient data."
Defending champion Dustin Johnson had the first penalty of the season, he should have consulted the new rules. Although a volunteer marker had noted where Dustin's ball had gone into the hazard, Dustin walked in, found a ball of the brand he was playing with, and played a good shot out, problem was it was not his ball. The penalty gave Dustin a second round +1 over 74, leaving him a -5 under for the tournament;
"It was way up in there, so I didn't want to move anything."
"But I guess now understanding the new rule, if it moves it's not a penalty."
"So that won't ever happen again, I can promise you that. It's just bad luck."
Click HERE to buy a White Dragon Putter on Ebay.