Xander Schauffele wins Tournament of Champions in Hawaii, with a Plantation Course 62, equaling the low round scoring record.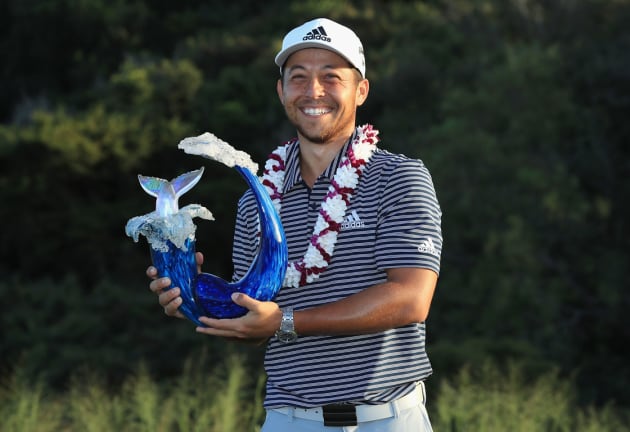 Xander and Trophy / getty
Xander shot a final round -11 under par 62 to lift the Tournament of Champions Trophy with a -23 under total, not bad for an underdog;
"Kind of weird sound to it, honestly. I don't know. I just still feel like an underdog."
"I feel like until you're No. 1, you're chasing."
"So guys like Bryson and Justin, JT's put together a ton of good years, Brooks has been crushing it."
"They keep putting that flag way out there for me to go and chase and I feel like that's what I've been doing."
"You kind of look around and realize you have nothing to lose."
"All of my wins have been from behind. This was in sort of dramatic fashion and it turned into a birdie fest coming down the stretch."
Gary Woodland finished second, missing a birdie putt on the last hole to force a play-off. He did nothing wrong apart from that missed putt, -5 under 68 today for a -22 under total;
"I don't think it will ever be easy because I still believe I was playing well enough to shoot 66 today."
"The game was in a good spot. You have an iron into the par five in the middle of the fairway on the last hole you expect to make birdie."
"I had killed the par fives all week this week, which is what you got to do out here."
"So I knew what he was doing and the competitor in me knew I needed to do one better and unfortunately I didn't get it done."
Justin Thomas was third at -18 under, a last round -8 under 65 easing him up the leaderboard. Justin tweeted;
"Unreal playing by @XSchauffele today. -11 today with a BOGEY ON ONE! Insane. Great week by him and @GaryWoodland both.. they were tough to keep pace with. Onto the Sony."
Rory McIlroy messed up another final round, -1 under 72, after starting in the last group alongside Gary. Rory ended up T4 at -15 under;
"My attitude was much better today, I didn't press at all, I was very patient, it's just something I'm going to have to persist in, just keep putting myself in these positions and honestly, I don't think anyone could have beaten Xander today,"
Click HERE to buy a White Dragon Putter on Ebay.