Webb Simpson wins the Waste Management Open, defeating Tony Finau in play-off for the title at TPC Scottsdale in Arizona.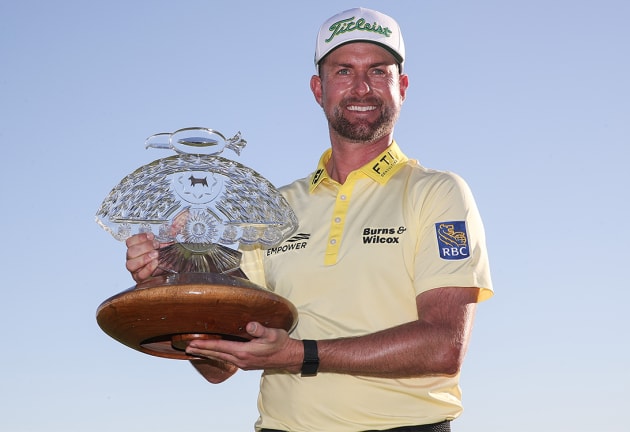 Webb / getty
Webb tied Tony at the top of the Waste Management Open leaderboard on the last hole of regulation, both players at -17 under.
Webb finished his last round with three three's on the card, for -2 under 69, while Tony was at -1 under 70. The play-off was on the par four 18th, and Webb won with another birdie there. Tony missed his chance of a win in regulation, he needed a birdie.
Webb said the course played tough today;
"Today was a lot different. Today played tougher."
"I thought the pins were very tough, by far the toughest day of pins, course was longer, we had wind. We hadn't had wind all week, so everything today was harder."
"It's hard. He is a great friend, our wives are friends and he's one of the best guys on tour. So it is a bit tough."
Tony spoke about the two missed putts;
"I hit good putts, the first one I hit really good, I thought I made it."
"Second one, similar line, a little bit farther, decided to play a little bit more break and it didn't break."
"I definitely didn't give him the tournament, unfortunately, it's how the cookie crumbles."
"I love Webb. I think the camaraderie that I have with him as being one of my best friends out here, it would have been hard for either one of us to take this victory from each other. He got the upper hand this time, but I love that guy."
Justin Thomas, last round of -6 under 65, Bubba Watson, -5 under 66, and Nate Lashley, with -3 under 68, shared third place all with -14 under totals.
Justin loves the craziness of the tournament;
"It's always a fun week here in Phoenix, somehow it gets crazier every year."