Maverick McNealey and Jim Knous share the top spot on the Fortinet Championship leaderboard after 54 holes at Silverado Resort and Spa in the Nappa Valley in California.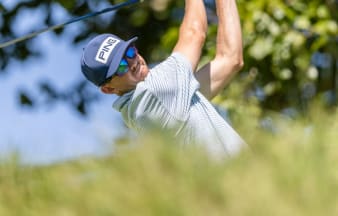 Jim Knous.
Maverick -2 under par 70 today and Jim with a -7 under par 65 third round are tied at the top of the Fortinet Championship leaderboard at -14 under par.
Jim had a hot putter today;
"Putter got hot there late on the back nine."
"I just tend to see the breaks pretty well out here. A lot of them have big swings and you can use your imagination and that's kind of how I like to putt, so I was able to roll some nice ones in."
Jim even threw in a birdie on the last hole from off the green;
"Me and my caddie had a great read, it was just going to break a little bit right at the end. Put a good stroke on it, perfect speed, and there you go."
Maverick was also happy with his putter performance today;
"It was a crazy day, I remember hitting a good tee shot down the middle on the 12th with a utility iron and everything seemed to slow down and calm down for me. I started seeing my lines with the putter."
Maverick hurt his wrist punching a shot out from a tree root;
"I was really lucky that I didn't try to hit a full swing because I chipped out sideways and a softball-sized rock came out from under the ball."
"I stung my wrist a little bit. I'm really glad I didn't go after that one full because I told my caddie I would have been out for a year."
Five players are then tied in third spot, two shots back at -12 under par; Max Homa, -7 under 65 today, Scott Stallings, -5 under 67, Troy Merritt, -3 under 69 , Beau Hossler, -2 under 70, and Mito Pereira of Chile with -2 under 70.
Not too far back is major winner Phil Mickelson at -10 under par, Phil carded a -5 under par 67 third round, to put himself in contention. Following his round Phil went straight to the practice putting area;
"I felt like I blocked a couple putts and I just wanted to work on that."
"I'm in a position where a good round tomorrow will do some good, and it's fun to have a little later tee time and to feel some of the nerves and so forth."
"I know I'm going to have to shoot probably 7, 8, 9 under par to have a chance, but either way it's fun having that chance."