Abraham Ancer of Mexico claimed his maiden PGA Tour title, the WGC St. Jude Invitational, defeating Sam Burns and Hideki Matsuyama of Japan at the second extra hole at TPC Southwind in Tennessee.
,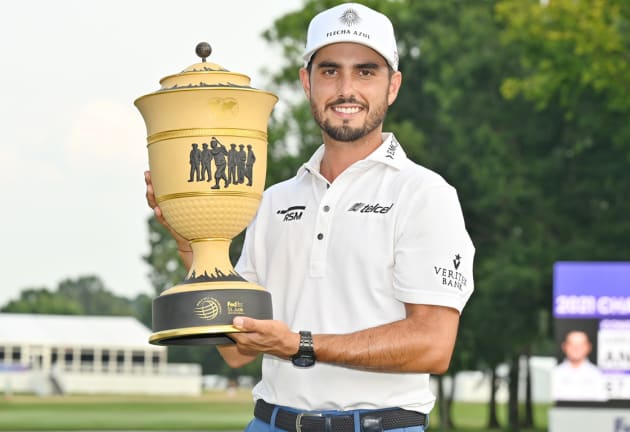 Abraham, -2 under 68 for his final round, Sam, -6 under 64, and Hideki, -7 under 63, were all tied at the top of the FedEx St. Jude Invitational leaderboard with -16 under par totals.
Abraham, who was born in the USA in Texas, but has dual nationality, and prefers to play for Mexico, he won with a birdie at the second extra hole, the par four 18th;
"This is surreal, I felt I left so many shots out there on the back nine, but you never know."
"I went right at it and the shot played perfectly in my mind and it came out just how I pictured it."
Harris English, who was cruising towards the title on the front nine, until he was officially warned for slow play. That seemed to unsettled Harris who then went on to card three double bogeys on the back nine;
"Yeah, we were warned on the front nine to pick up the pace, kind of got behind, felt like we were running pretty much the whole round and never really caught up."
"You definitely start the day in one rhythm and then you kind of get out of that having to walk faster, having to do everything a little faster because you don't want to get a bad time."
"It was tough, the wind was swirling obviously coming down the stretch, there was some very important shots in there and it was tough."
"But I've got to learn to slow down, go through my routine and not really worry about being put on the clock."
Harris finished one shot out of the play-off at -15 under with a +3 over par 73 final round, alone in fourth place.
US PGA Tour rule Rule 5.6 penalty for undue delay/ slow play is one stroke penalty for the first and general penalty for the second offence and Disqualification for the third offence unless modified by the committee.
Seems it is not good enough to be a good golfer, you have to be a runner too, apart from that Harris was in the last group, so they would not have been holding anyone up.