Peter Malnati, USA, leads the Wells Fargo Championship after 36 holes at The Quail Hollow Club.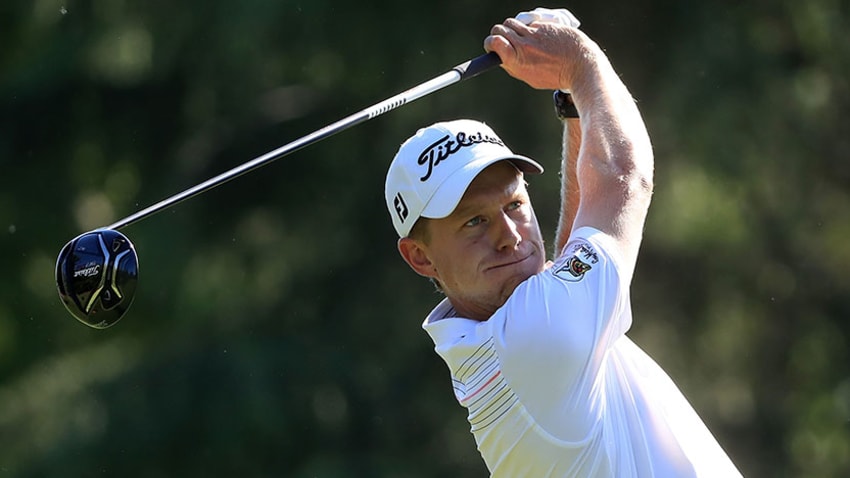 Peter Malnati / getty
Peter shot a second round -3 under 68 to lead the Wells Fargo Championship at the half-way stage with a -7 under par total.
A relaxed Peter told reporters;
"Honestly, the biggest thing that's different this week from kind of the last couple years for me is just I'm more relaxed."
 "I'm feeling good, I'm confident with what I've been doing, and I'm kind of letting it show on the course rather than letting it stress me out."
"I've been trying to kind of embrace just being a little more calm and relaxed on the golf course this week."
"It will be a good test tomorrow to see how I feel walking to that first tee."
"I'm sure there will be some nerves, but I'll definitely be excited and I'll be able to hang on to some of this calm that I felt these first two days."
Aaron Wise, USA,  -3 under 68 today shares second place with Jason Day from Australia, who carded -4 under 67 in his second round, both players at -6 under for the tournament.
Tied in fourth place at -5 under par are Paul Casey, England, -3 under 68, and Charl Schwartzel, South Africa, with -4 under 67 today.
Paul has not had much success around here;
"It's a golf course I didn't have a lot of success on through the years and it used to be very sort of damp around here."
"At the  PGA, I had a good result. For some reason it just seems to be clicking now around this golf course."
"Maybe the firm and fast, I like that."
Struggling to make the cut, which was at +4 over were Rory McIlroy,  Northern Ireland,  with Tiger Woods and Phil Mickelson, all at +2 over, and Adam Scott, Australia, +3 over.