Darkness descends over the Arizona desert, suspending the first round of the Waste Management Phoenix Open, at TPC Scottsdale, with Ryan Palmer leading. Play was suspended at 5:45 p.m. MT because of the gloom, leaving nine players, out of the 132 starters, to complete their opening rounds on Friday.
At the 16th hole Ryan gave away a dozen golf balls to excited fans, they were wrapped with a $10 dollar bill, with the message "Have a beer on me"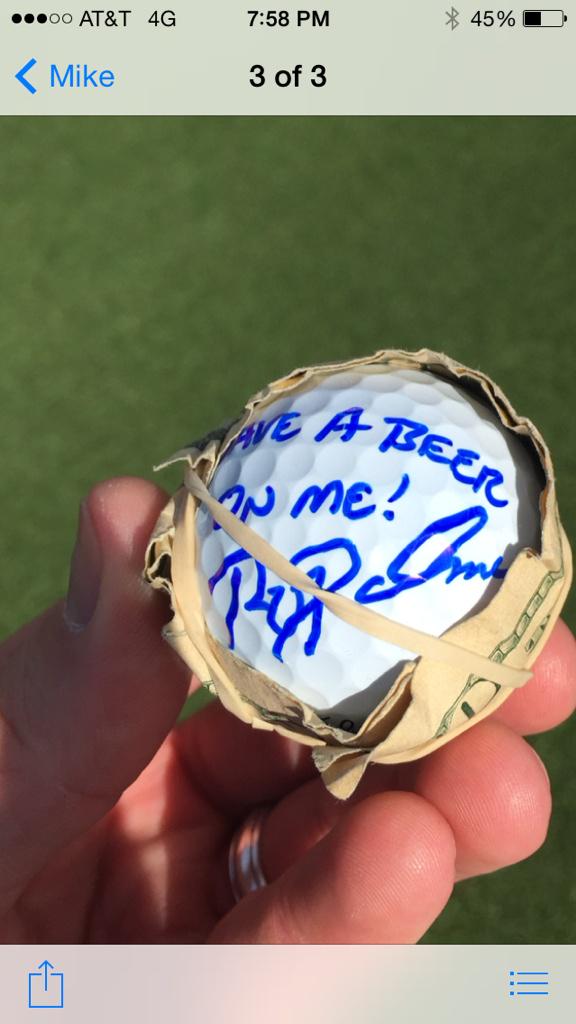 Ryan shot an opening round of -7 under par 64 to lead the Waste Management Phoenix Open by just one shot at TPC Scottsdale.
Keegan Bradley, Bubba Watson and Daniel Berger are tied second place at -6 under par after their opening efforts of 66.
Bubba said he had a great day;
"A couple breaks went my way right there in the middle stretch of the back nine which kept me going."
"All in all it was a great day."
The much heralded return of a resurgent Tiger Woods did not amount to much, he carded a first round +2 over par 73, even though he drove the green on the par 4, 17th hole, a distance of 341 yards. He seems to be struggling with his chipping around the greens, do you think it could be the dreaded Chipping Yips ?
Tiger explained;
"I'm just having a hard time finding the bottom. Because of my old pattern, I was so steep on it, that I have a new grind on my wedge and sometimes it's hard to trust."
"I'm ahead of schedule on my speed, look how far I'm hitting it now. I've just got to get committed to hitting the club less sometimes. That's the hard part. I bailed out on a couple of shots because I just don't believe I have that much speed on my body yet. But I do."
"This is my second tournament in six months, so I just need tournament rounds like this where I can fight through it, turn it around, grind through it and make adjustments on the fly."
The second-round tee times are still expected to begin on time at TPC Scottsdale, with the groups starting off the first and 10th tees at 7:30 a.m. The remaining nine players will resume their opening rounds before continuing on with their second rounds. There could also be more delays during the second round, weather forecasts predict a 90 percent chance of rain on Friday with up to a quarter-inch of precipitation expected.