Ian Poulter, England, prevails in a play-off against Beau Hossler, USA, to win the Houston Open at the Golf Club of Houston, Texas and he now heads off to the Masters.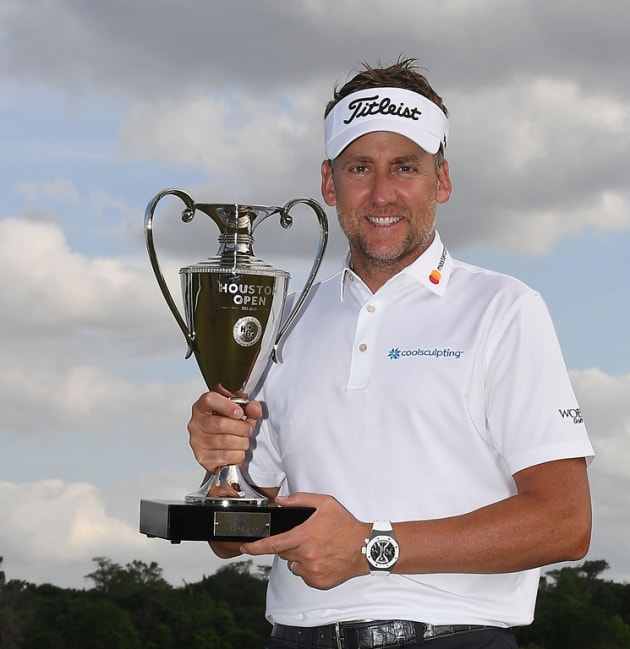 Poults & Trophy / getty
Poults and Beau both had final rounds of -5 under 67, to be tied for the lead of the Houston Open at -19 under par. Poults sinking a 19 ft birdie putt on the last hole forcing a play-off for the title.
Poults won on the first extra hole the par four 1st, the easiest hole on the card, Beau unfortunately took a triple bogey 7, handing the win to Poults, who carded a par;
"It's been a long road the last couple of years with injury, questioning whether I've got a PGA TOUR card or not, and then obviously having some form and not quite finishing off in the past."
"That's as low as I've ever been, that's as far down the world rankings as I've been."
"Questioning whether you've got a card or not isn't very good for your mental strength."
"Disappointment kicks in at some stages, but you know what? At times you have to dig deep."
"When you want something bad enough, then you have to go right down to the bottom and grab hold of what you can and come back up."
"The journey continues, I've had 19 good years on TOUR and I guess I've got another couple coming. "
"So there's life in the old dog yet."
Beau said it was a bummer, but he played well;
"I said yesterday that I wanted to beat these guys at their best, and I think I saw Ian's best today."
"It's a bummer, but I'm very proud of the way I played."
 "I can't look and be negative about the week. I was really hoping I would get it done this week, but my time will come soon."
Tied in third place at -16 under were Jordan Spieth, USA, -6 under 66 today, and Emiliano Grillo, Argentina, with a final round -4 under 68.
Jordan is looking  forward to next week at the Masters;
"Goal accomplished for the week, I've made some big strides from my last couple tournaments."
"I'm very excited for what next week holds."
 Get In The HOLE, E-Book Putting Manual on Amazon