Two players are tied at the top of the Tournament of Champions leaderboard after 36 holes at the Plantation Course in Hawaii, Marc Leishman, Australia and Brian Harman, USA, share the honor.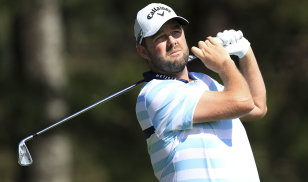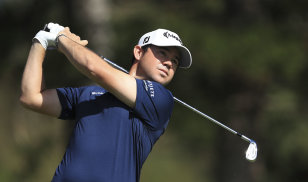 Marc and Brian / getty
Marc was bogey free today with his -4 under 69, while Brian carded -5 under 68, which included two bogey's, to join him at the top of the Tournament of Champions leaderboard at -10 under par for the two rounds completed.
Marc likes to win;
"I don't really need to change anything. Certainly, going to play to win."
"I mean that's what we are here for and after last year getting a taste for it, it would be nice to do it again as soon as possible."
"It would be nice to just keep playing the way I'm playing and hopefully seal up the TOUR Championship earlier so you can go into the FedExCup Playoffs not thinking about getting into the TOUR Championship, you're thinking about winning tournaments."
World #1 Dustin Johnson, USA, holds third place at -9 under par following his second round -5 under par 68, and he is happy with the way he is playing;
 "It sets up well. It's windy, so you really have to strike the ball well."
 "I think that's a big factor out here, especially with all this wind. You hit solid shots, you can control it and you can hit some good ones. It's the miss-hits when the wind's blowing this hard that can really take it way off-line."
"So I feel like I strike the ball very well and I control my distance pretty well. And it's a lot of feel around here. You hardly ever hit full shots, I feel like. So I kind of like it."
Three players then share fourth spot at -8 under, Pat Perez, and Chris Stroud, both recording 7 under 66 today, and both from the USA, they are joined by Jhonattan  Vegas from Venezuela, he signed for a second round -3 under par 70. 
Pat was upset at a couple of mistakes he made today;
 "Stupid double on eight, that pissed me off."
"Didn't make a birdie on nine, which sucks."
"Didn't realize I shot six under on the back." 
"I still can't believe what's transpired in the last 17 months, but I'm just trying to enjoy every day of it. I'm having a blast."