Phil Mickelson, USA, was full of pride as he won the WGC Mexico Championship in a play-off against Justin Thomas, also from the USA.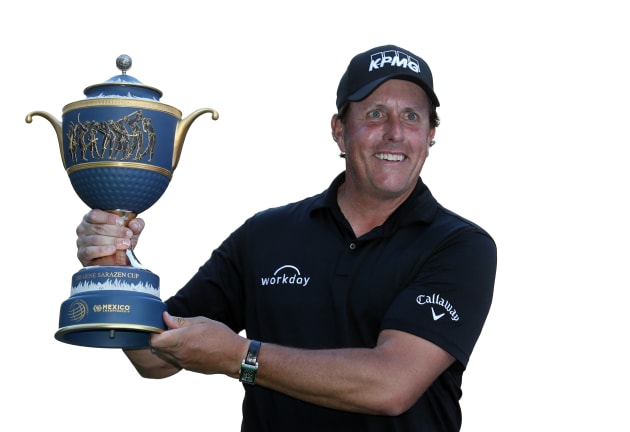 Phil breaks his winless streak. / getty
Phil, -5 under 66 today, and Justin, -7 under 64, finished tied for the WGC Mexico Championship at -16 under par, sending them into a play-off. Phil won at the first extra hole, the par three 17th, carding a par, and is now firmly on track to get to 50 wins, and also be involved with the Ryder Cup;
"I can't put into words how much this means to me."
"I knew it was going to be soon, I've been playing too well for it not to be."
"But you just never know until it happens."
"I don't know when I'll get to 50, seven more wins and I'll be there, but I don't have the month or the time, but I will get there."
"I've made it known that one of my big goals is for me to be a part of a winning team in Europe."
"It hasn't happened in my career. It would mean a tremendous amount to me to have us succeed over on European soil."
Sharing third place at -15 under par were Rafa Cabrera Bello, Spain, and Tyrrell Hatton, England, both players had final rounds of -4 under 67.
Tyrrell pondered over his approach shot to the final green, the mistake cost him a place in the play-off;
"We were trying to think, 148 meters, wrong club."
"So it's just disappointing."
"Need a shot in there to take the spin off and we hit a club that's pitching around the pin if I hit a really good one and it's just going to spin."
"So I'm absolutely raging with that."
"I'm pretty hacked off. We'll see, you never know when you're going to get the chance to win a WGC event again."
"This is the first chance I've had of winning."