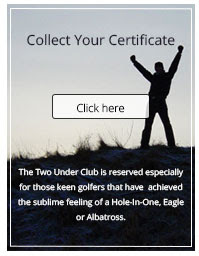 Hi Peter,
Congratulations on your recent Eagle on the par 5, hole 12 at Paraparaumu Beach!
We all love to remember the joy and excitement we experienced on the special day that the most elusive of all golfing goals came to pass. The day of your hole-in-one, eagle or albatross is one of those special days. One that, when remembered, brings a smile to your face.
The exclusive Two Under Club gives recognition to these special golfing achievements.
You are now eligible to receive a Personalised E-Certificate detailing your accomplishment – which you can even share with your friends! Get your Certificate now!
Even more good news is that you also qualify for membership of the exclusive Two Under Club & we've been helping golfers celebrate their Hole in One, Albatross or Eagle for over 37 years.
Special Golf Days in our lives should be remembered!
You can join now!
Best Regards,

Vern Pere
Two Under Club NZ