Zach Johnson and Jordan Spieth are tied at the top of the Travelers Championship after the first round at TPC River Highlands.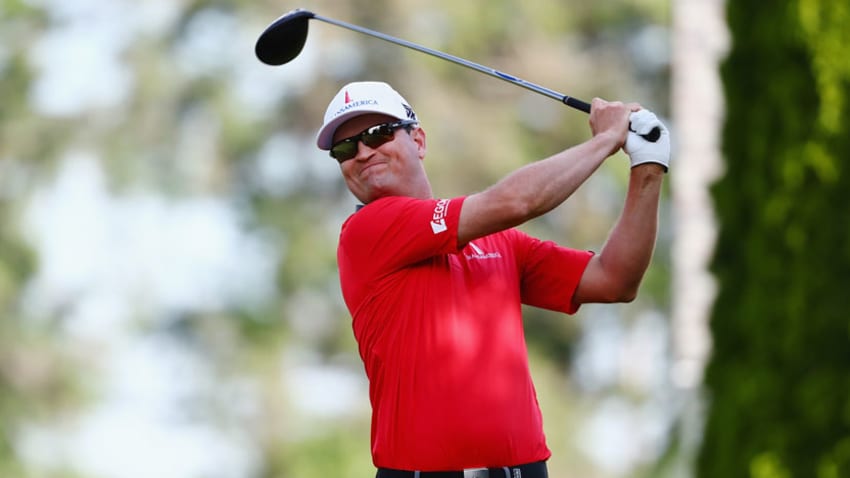 Zach Johnson / getty
Zach and Jordan shot -7 under par 63, neither bogey free,  to lead the Travelers Championship by one shot.
Zach likes the set up of the course, carding six birdies in a row on the back nine, he has four wedges in his bag;
"I feel like every time I get here, it just feels like I should shoot nothing, and it bites me." 
"The last couple of years, I'm like, all right, you can't have any expectations in that regard. You've just got to go out and execute."
"Six in a row is a treat."
"I don't think I'm going to be looking back, because it feels pretty good right now."
Jordan holed an Eagle out of the bunker on the par five 6th;
"They've got some sort of magnetic sand for me, but it was actually a pretty tough shot there, almost a little down slope and I had to hit close to the ball, which you just have to commit to it. "
"I just hit the shot that was necessary. I probably could have gone 4-5 feet by, but I couldn't hit it any better than I did, and I was obviously fortunate for it to hit the pin and go in."
Peter Malnati, Brian Harman and Rory McIlroy share second place at -6 under after their opening rounds of 64.
Peter was struggling, and then it suddenly came right;
 "It's cool to see how quickly it can turn around, I wouldn't say it surprises me, but it's certainly fun when it happens."
Rory has been practicing since his U.S. Open missed cut;
"Sometimes when you take your focus away from the result and away from what you're actually scoring like and focus just on what you're trying to do within your golf swing, you sort of have days like this."
 Get In The HOLE, E-Book Putting Manual on Amazon